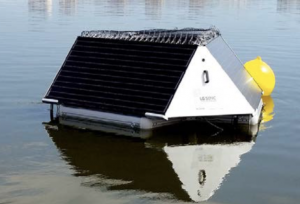 Lake Agawam Conservancy is thrilled to announce two exciting projects that will help restore the lake this spring. This week, the New York State Department of Conservation will deploy three ultrasonic devices in Lake Agawam to help mitigate harmful algae blooms (HABS).
In addition, Southampton Town, Southampton Village and Lake Agawam Conservancy will be treating the lake with a hydrogen peroxide-based product called GreenClean Liquid this spring and summer of 2021. The two HABs-reduction strategies were identified in the Lake Agawam Action Plan that the DEC created in partnership with Lake Agawam Conservancy, Southampton Village Trustees and Southampton Town and Town Trustees in 2020.
DEC experts are working closely with the Lake Agawam community, in collaboration with Stony Brook University, to study the use of ultrasonic devices in the lake throughout the summer of 2021. If successful, the technology could be implemented on other water bodies susceptible to HABs.
Three ultrasonic devices will be deployed on floating, solar-powered buoys that combine continuous water quality monitoring, the use of web-based software as well as ultrasonic technology to effectively control HABs in real-time. Ultrasonic waves create a sound layer in the top layer of the water, which has a direct impact on the buoyancy of the HABs' cells. The cells will sink to the deeper and darker layers of the water column, where the algae are unable to access light and they eventually die. In addition to the study of this technology, Southampton Village is working with a consultant to apply the aquatic pesticide GreenClean Liquid to Lake Agawam two times during 2021. Through using this liquid application, an algal bloom's cells and toxins are destroyed as the hydrogen peroxide breaks down to oxygen and water within minutes.
Lake Agawam Conservancy thanks the DEC and support from the Southampton community for helping to restore our lake with innovative scientific approaches.